Proven Anti-microbial Efficacy - provides rapid bactericidal action against a broad spectrum of micro organisms with greater than 99.9% kill in 15 seconds (In Vitro).
Best in class Residual Protection for upto 6 hours with a combination of alcohol and Chlorhexidine Gluconate, preferred by Clinicians and pero Operative Nurses.
Moisturized with skin emollients to prevent skin dryness and damage.
Optimal Dispensation of 3ml of solution.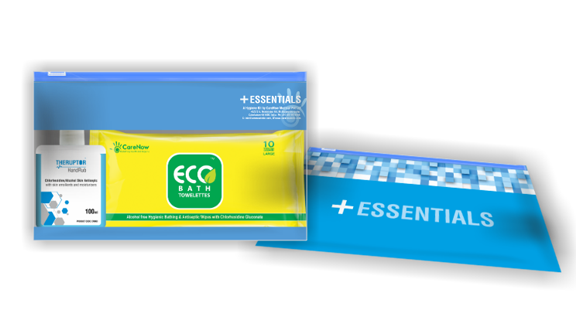 Active Ingredients
Chlorhexidine Gluconate Solution I.P 2.5% w/v, 2-Propanol I.P 70% v/v & skin emollients.
Application areas
Indicated for rapid hand disinfection
Suitable for use before and after every patient contact and in between hand washes
Available in 100ml, 250ml & 500ml Independent Dispensing solutions and with kits of ECO Bath Wipes